Varla Eagle One
We have received many inquiries from Varla scooter riders about how to set the speed unit (kmh/mph), how to adjust the display brightness, how to reset mileage or the like.
If you have the same question, you're in the right place!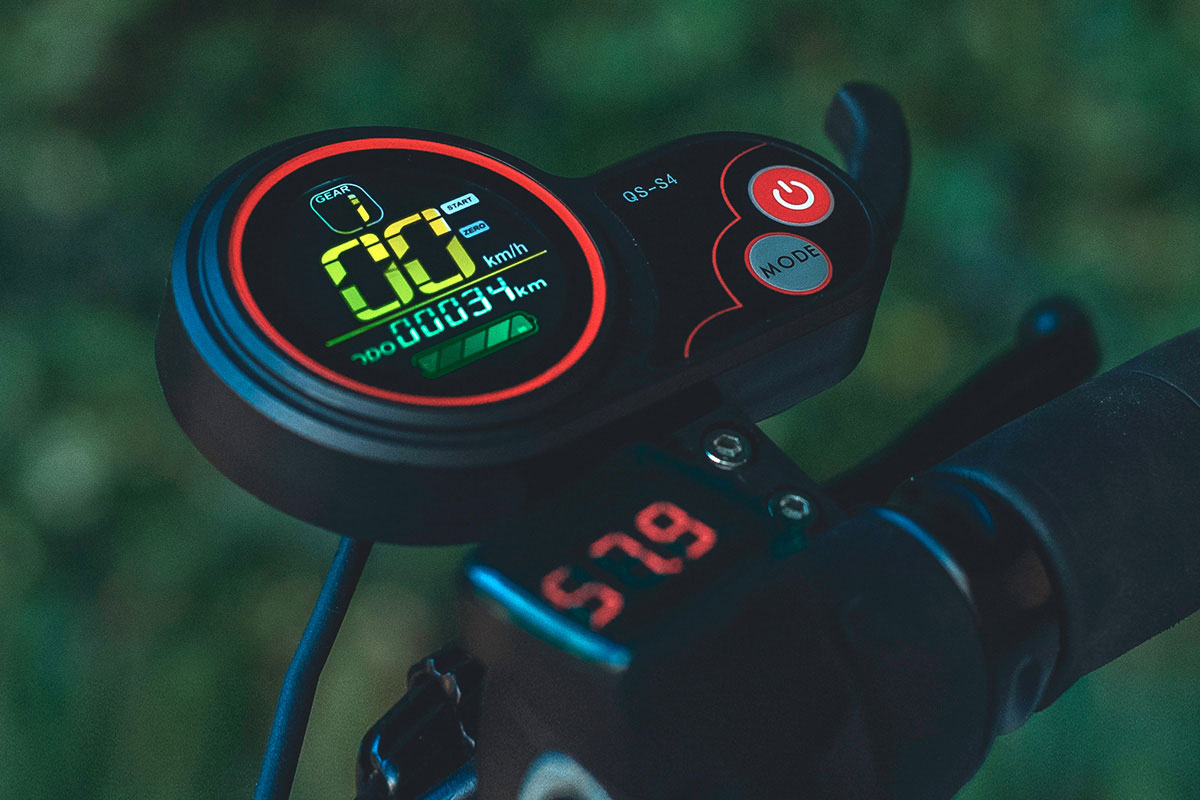 There are two buttons on the QS-S4 throttle: Power and Mode. How can the user complete a P-Setting with the 2 buttons without messing up? Read on and learn more!
ACCESSING SETTINGS
1. Power on your scooter.
2. Hold the Mode and Power buttons (3 seconds) to access the P-setting menu.
3. Press the Power button to toggle through P-settings.
4. Press the Mode button to adjust the value.
5. After adjustment, short press the Power button to switch to the next feature and save the previous feature value.
6. To save settings, allow the LCD display to timeout (8 seconds) or long press Mode and Power buttons to exit the menu.

*Long press the Power button to change the direction of value addition and subtraction, the left display "A" means increasing the value, and the left display "d" means decreasing the value.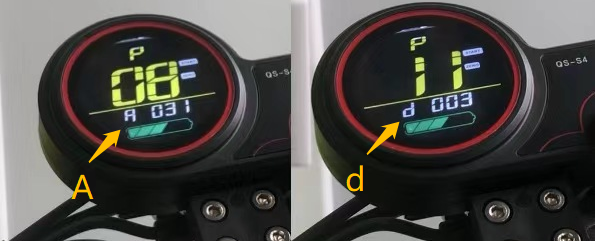 Now you know how to use the display, let's see the P-Setting menu, find the one you want to change!
SETTING MENU
Setting
Feature
Notes
P1
LCD brightness
1: low2: mid3: highDefault: 3
P2
Speedometer units
0: kph
1: mph
Default: 0
P3
Battery voltage (do not adjust)
From 24V to 72V
Default: 52V
P4
Auto-off time
0: not set
60: 60 min
Default: 5
P5
Unused
P6
Wheel diameter (do not adjust)
Default: 10.0
P7
Motor magnets (do not adjust)
From 0 to 255Default: 28
P8
Power level
1: slowest
100: fastest
Default: 100 km/h
P9
Start mode
0: zero start
1: kick to start
Default: 0
P10
Unused
P11
Regenerative/Electronic brake strength
0: off,1: weak
5: max
Default: 3
P12
Acceleration
0: off1: weak
5: strong
Default: 3
P13
Unused
P14
Unused
P15
Automatic scooter voltage shut-down (do not adjust)
From 37.0 to 47.0Default: 42.0
P16
Lifetime odometer reset
Long-press Mode button to reset to 0
P17
Cruise control
0: off
1: on
Default: 0
P18
Unused
P19
Unused
P20
Communication protocol (cannot adjust)
Default: 4
FAULT CODES
After a long period of riding, you may encounter something fault and see one of these codes. So what does the fault code mean? Let's check the table below!
| | |
| --- | --- |
| Fault Code | Feature |
| E 02 | Brake |
| E 04 | 6km/h cruise |
| E 06 | Battery under voltage |
| E 07 | Motor faulty |
| E 09 | Controller faulty |
| E 10 | Faulty comms between controller and LCD |
| E 11 | Faulty comms between controller and LCD |
| E 12 | BMS failure |
| E 13 | Headlight failure |
If you can't solve this problem, please contact our support team ASAP, directly email at customer@varlascooter.com, and attach fault code photos or video, and we will reply to you within 24 hours! If you could give us more details, we can help you solve this problem more quickly!